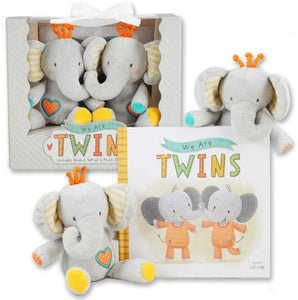 We Are Twins! Plush Elephants and Book set.
Regular price $28.99 Sale
Finally, a Baby and Toddler Gift designed specifically for Twins! This gender neutral twin keepsake gift will definitely be a favorite! Set includes a fully illustrated rhyming storybook about how special it is to be a twin along with a set of 2 plush toy elephant rattles.

"We are Twins" was written by Jennifer Driscoll, a mother of twins, and illustrated by Sylvia Smith. It is a 26 page rhyming story about being a twin and the special bond twins share. The book brings humor to some of the challenges of being a twin along with the lifetime rewards and contains adorable illustrations throughout. Book measures 7.5" by 7.5"

Plush elephant rattles measure 7 inches tall and are soft and luxurious with lots of embroidery details. The twin elephants look alike but have small differences - the trunks curve to different sides and the embroidered hearts are on different sides. Gender neutral with fun pops of turquoise, orange, and yellow.