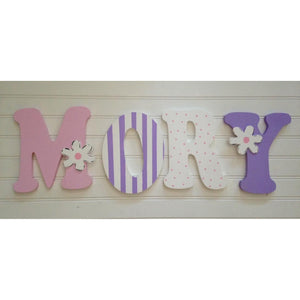 Wall Letters-Mory Style
Regular price $18.00 Sale
These are truly the best quality and most unique, custom painted letters out there! The letters are great for babies, children, shower gifts, birthday gifts and more!

Here are the prices PER LETTER:

6" $18.00
8" $22.00
10" $26.00
12" $30.00
14" $34.00

Matching Nail Covers-$6 each (will be painted a solid color of your choice)

Larger sizes...if you are interested let me know and I will send you a quote.

Letters are 1/2" thick.

Ribbon or saw tooth hangers (your choice) will be included at no extra charge.

Due to the great amount of detail involved in this process and a high demand for these please allow 6- 8 weeks for your order to ship.